History
The roots of the Sri Lanka Artillery goes back to 1888, when on 20 April 1888 Ceylon Artillery Volunteers was formed as a gun battery under the command of Captain C.E.H Seimans of the Royal Artillery. During World War I Ceylon Artillery Volunteers was mobilised along with Town Guard Artillery of Colombo for the defence of Colombo. In 1918 the Ceylon Garrison Artillery (CGA) was formed by amalgamating the Ceylon Artillery Volunteers and Town Guard Artillery, coming under the Ceylon Defence Force. During the colonial period the main responsibility of the Ceylon Garrison Artillery was the coastal defence of Ceylon, by manning Coastal artillery batteries. During World War II CGA was deployed outside Ceylon to support the Allied and Commonwealth forces in the Indian Ocean as well as defending Ceylon. Equipped with 6 inch Guns the CGA was deployed in defence of Seychelles and the Cocos Islands.
In 1949 CGA became the Ceylon Artillery with formation of the Ceylon Army under the Army Act of 1949. That year the 1st Heavy Anti-Aircraft Regiment (HAA) of the Ceylon Artillery was formed under the command of Lieutenant Colonel (later Colonel) F.C. de Saram OBE. In 1953 it was renamed the 1st Light Anti-Aircraft Regiment (LAA), that same year the 3rd Field Artillery Regiment was formed. The 2nd Volunteer Coastal Artillery / Anti-Aircraft Regiment was formed in 1949, under the command of Lieutenant Colonel J.A.T. Perera ED, it was made up of officers and men of the Ceylon Garrison Artillery. In 1962 2nd Volunteer Regiment was disbanded and coastal artillery batteries decommissioned. The following year in 1963 the 1st Heavy Anti-Aircraft Regiment was amalgamated with 3rd Field Artillery Regiment and the 4th Regiment, Ceylon Artillery was formed, thus reducing the Ceylon Artillery to a single regiment. Years after amalgamation of the LAA, the air defence role of the Sri Lankan military was taken over by the Sri Lanka Air Force Regiment which it carries out to this day. The CA was renamed in 1972 as the Sri Lanka Artillery when Ceylon became a republic. Only in 1980 was a new volunteer regiment, the 5th (V) Artillery Regiment was formed.
At present the Sri Lanka Artillery has 9 regular regiments, 2 volunteer regiments a School of Artillery and a regimental band. Since the start of the Sri Lankan civil war in the 1980's the SLA has provided fire support for all most all military operations carried out by the Sri Lanka Army against terrorists, it also performs the target acquisition role to locate enemy guns . At times the SLA has been deployed one reguler [RFT] and 2 vol regiments in an infantry role to meet the shortage of infantry.
Units
Regular Regiments
4th Field Regiment SLA
6th Field Regiment SLA
7th Light Regiment SLA
8th Field Regiment SLA
9th Field Regiment SLA
10th Field Regiment SLA
11th Regiment [RFT] SLA
14th Rocket Regiment SLA
15th Field Regiment SLA
School Of Artillery
Independent Locating Bat
Volunteer Regiments
5th(v) Sri Lanka Artillery Regiment
12th(v) Sri Lanka Artillery Regiment
Equipment
During the colonial period the Ceylon Garrison Artillery personnel manned British Coastal artillery batteries. After independence and establishment Artillery Regiment, the corps depended on its World War II-era British BL 6 inch coastal guns, 40 mm anti-aircraft guns, 3.7 inch heavy anti-aircraft guns and 4.2-inch heavy mortars. Later British Ordnance QF 25 pounder Mark III field guns and 76 mm mountain guns where introduced.
New sources of weaponry in the 1990s and 2000s included China and the Czech Republic. With the escalation of the Sri Lankan civil war 122mm, 152 mm, 130 mm howitzers and 120 mm, 82 mm mortars where introduced and in 2000 RM-70 Multiple rocket launchers where added increasing SLA's fire power. Target acquisition systems are also operated by the corps to locate enemy guns. The air defence role has now been completely taken over by the Sri Lanka Air Force Regiment.
OFFICERS SERVED AT 1st ANTI AIRCRAFT CEYLON ARTILLERY AND 3rd FIELD REGIMENT CEYLON ARTILLERY
1st Anti Aircraft Ceylon Artillery
Col F C de Saram
Col M A G de Mel
Brig L M Wickramasuriya
Maj C F Fernando
Lt Col A E R McHeyzer
Lt Col H T Gunasekera
Lt Col M A Jeewasoma
Maj (QM) Felix Fernando
Brig B K V J E Rodrigo
Capt N S Jayakody
Col V Ramanathan
Maj Gen D J de S Wickremanayake
Capt A E A Bartholomeusz
Brig Y R M P Wijekoon
Maj Gen G D Fernando
Col R Harindran
Maj Gen H G Silva
Maj Gen D U Weerasinghe
Lt Col S Wijeratne
Capt J L C Corera
Maj B Wijendra
Maj Gen A Ratnayake
Maj A H U N Weerakoon
Capt G I E Cadiramen
Capt B I Novello
Maj R A Wanigasundera
Lt Col F X A R Fernando
Col J A Ratnasabapathy
Capt Saliya Silva
Capt (QM) R I de Silva
Capt (QM) M W Perera
Capt (QM) P Colin - Thome
3rd Field Regiment Ceylon Artillery
Lt Col W S Abrahams
Maj H V T LaBrooy
Maj B I Loyala
Maj W G White
Capt A J B Anghie
Capt D E Weerasinghe
Brig D E Fonseka
Capt P A T Kelly
Capt A W Yogarajah
Capt D M Tammitegama
Gen H Wanasinghe
Maj Gen J I de S Jayaratne
Lt Col G Gajendran
Capt F C Corera
Brig H Rupasinghe
Capt K W P Gunaratne
Capt (QM) W F de Zilwa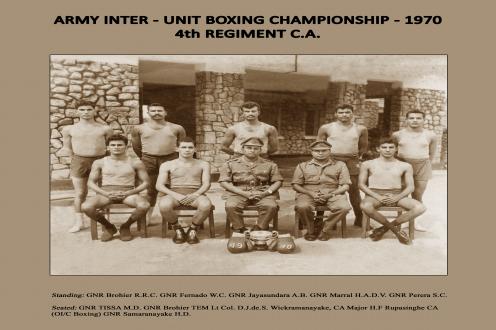 Army Inter Unit Boxing Championship - 1970
Lt ...., Maj HB Thibbotumunuwe, Maj HNW Dias, Capt SR Balasuriya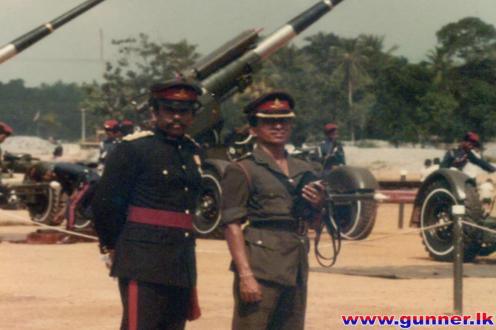 Capt SR Balasuriya & Maj HNW Dias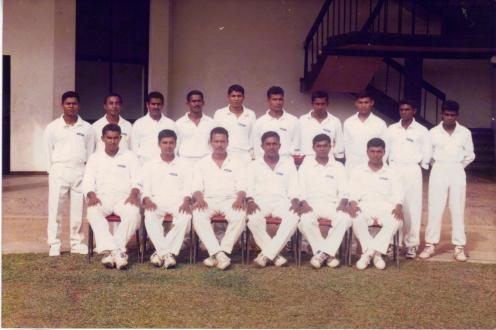 Inter Regiment Cricket Champions in Year 2000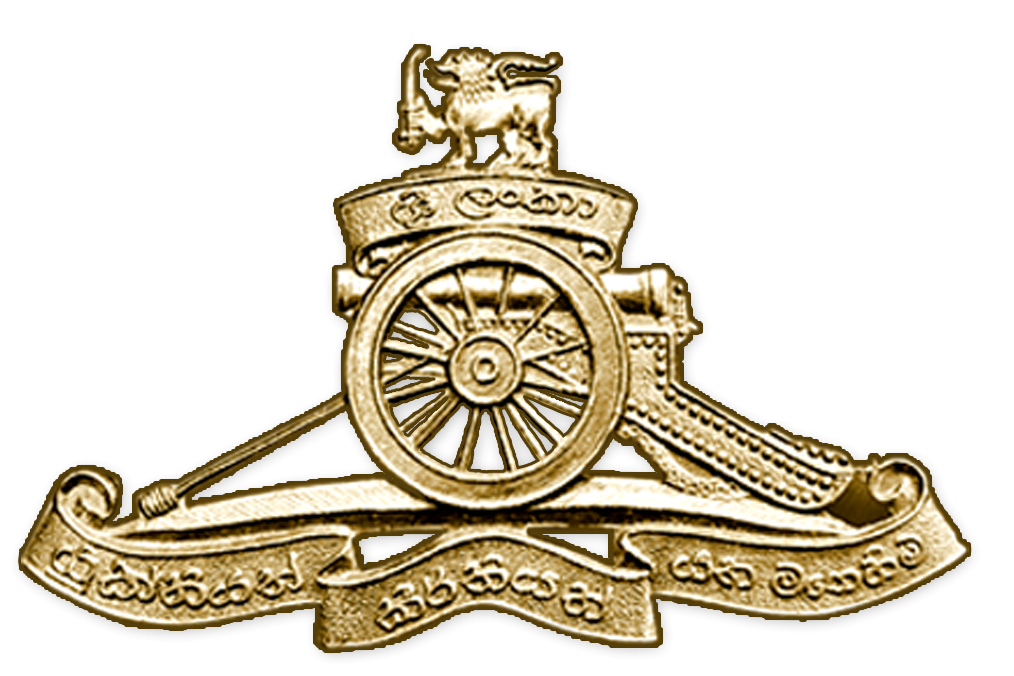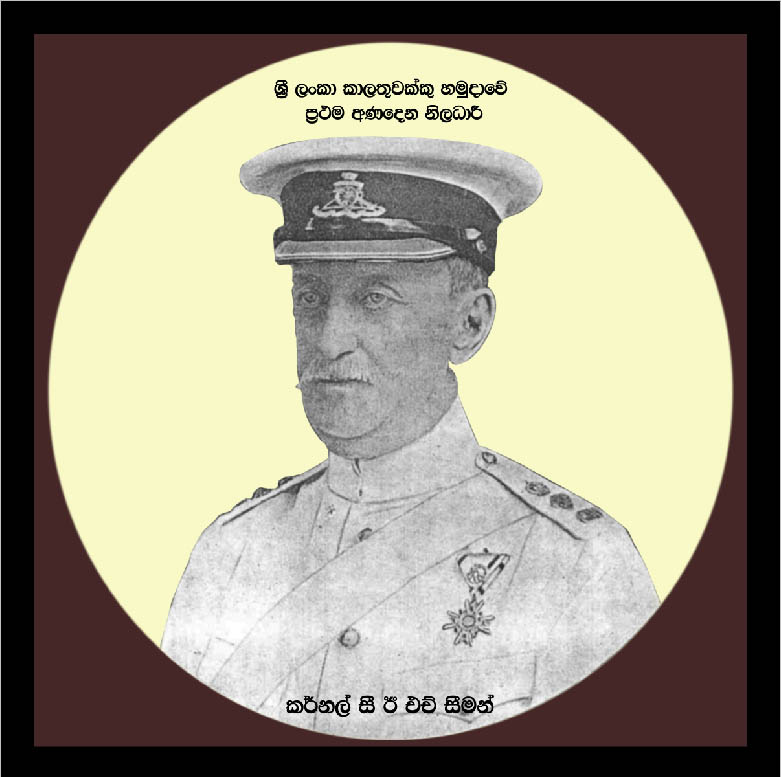 Third Chief of Staff of the Army and First Gunner Chief of Staff O/50006 Colonel MAG De Mel From 10 Feb 1955 to 13 Nov 1959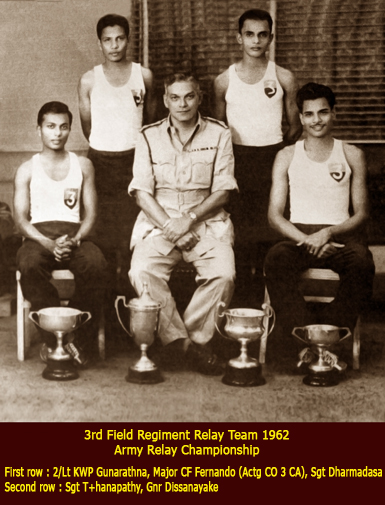 Good Old Memories of 4 SLA Retired Officers
Back Row L to R - Lt G Gajendran, Capt DU Weerasinghe, Capt YRMP Wijekoon,
Capt V Ramanathan, Major MA Jeewasoma, Capt FC Corera, Maj (DO) CF Fernando,
Capt Sali Silva, Capt DJ De S Wickramanayake, Capt GD Fernando, Capt HG Silva,
Capt HF Rupasinghe.

Seated-L to R - Capt FXAR Fernando, Capt (QM) MW Perera, Maj HVT Labrooy,
Lt Col CF Fernando, LT Col AER McHeyzer, Capt H Wanasinghe, Capt BED Wijendra.

Front row on Floor - Lt AHUN Weerakoon, Lt KWP Gunaratne, Lt RA Wanigasundera.
Historical "Blues Night" was to celebrate the Amalgamation of 3 Fd Regt SLA with the 1st Anti Aircraft/ Coast Artillery (1AA/CA) Regiments.
First row - Capt H Wanasinghe,
Second row - Capt Sali Silva, Capt Percy Wijekoon, Capt George Fernando, Lt Gajendran. Lt Rex Fernando.
Third row - 2 Lt KWP Guneratne, Lt AHUN Weerakoon.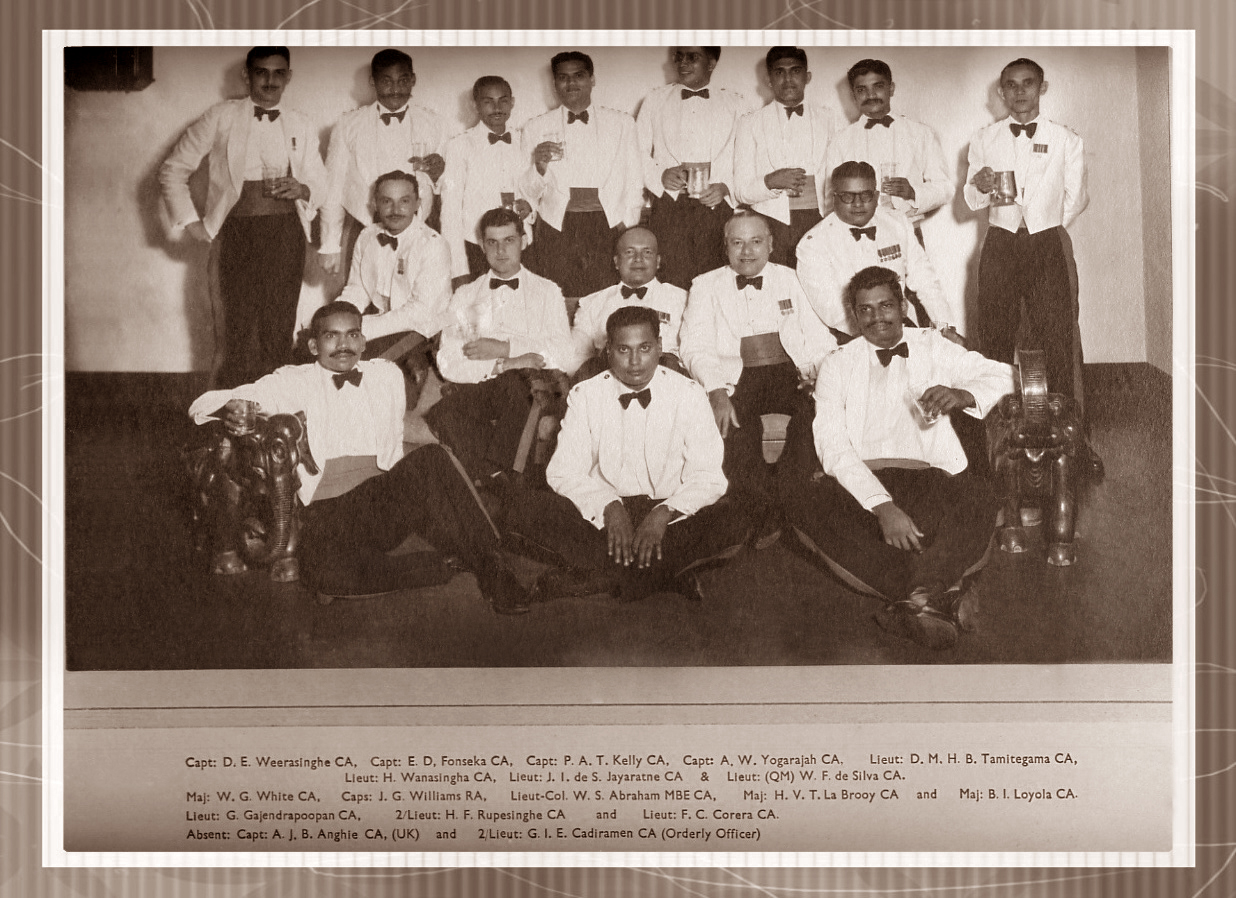 40 mm Anti Aircraft Gun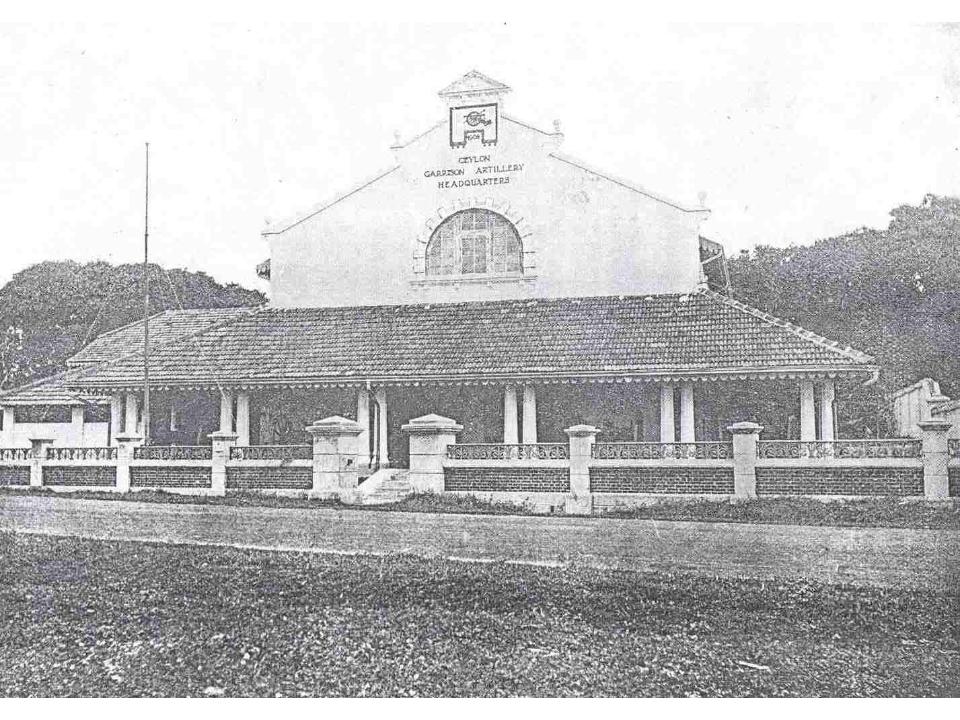 Ceylon Garrison Artillery HQ - Kirulapana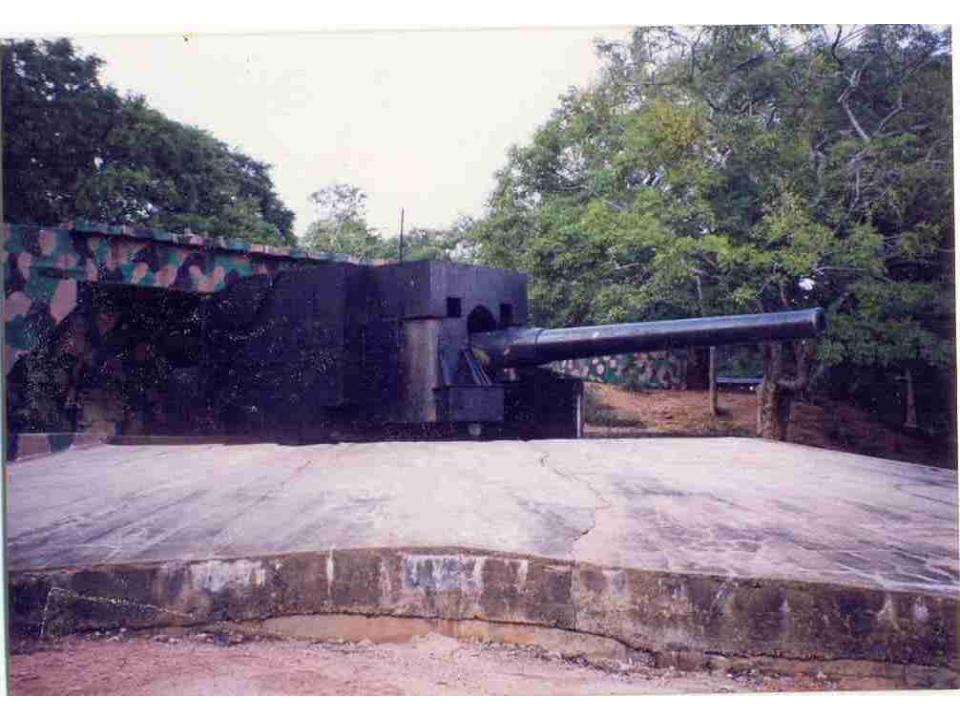 Coastal Artillery Gun at Museum in Trincomalee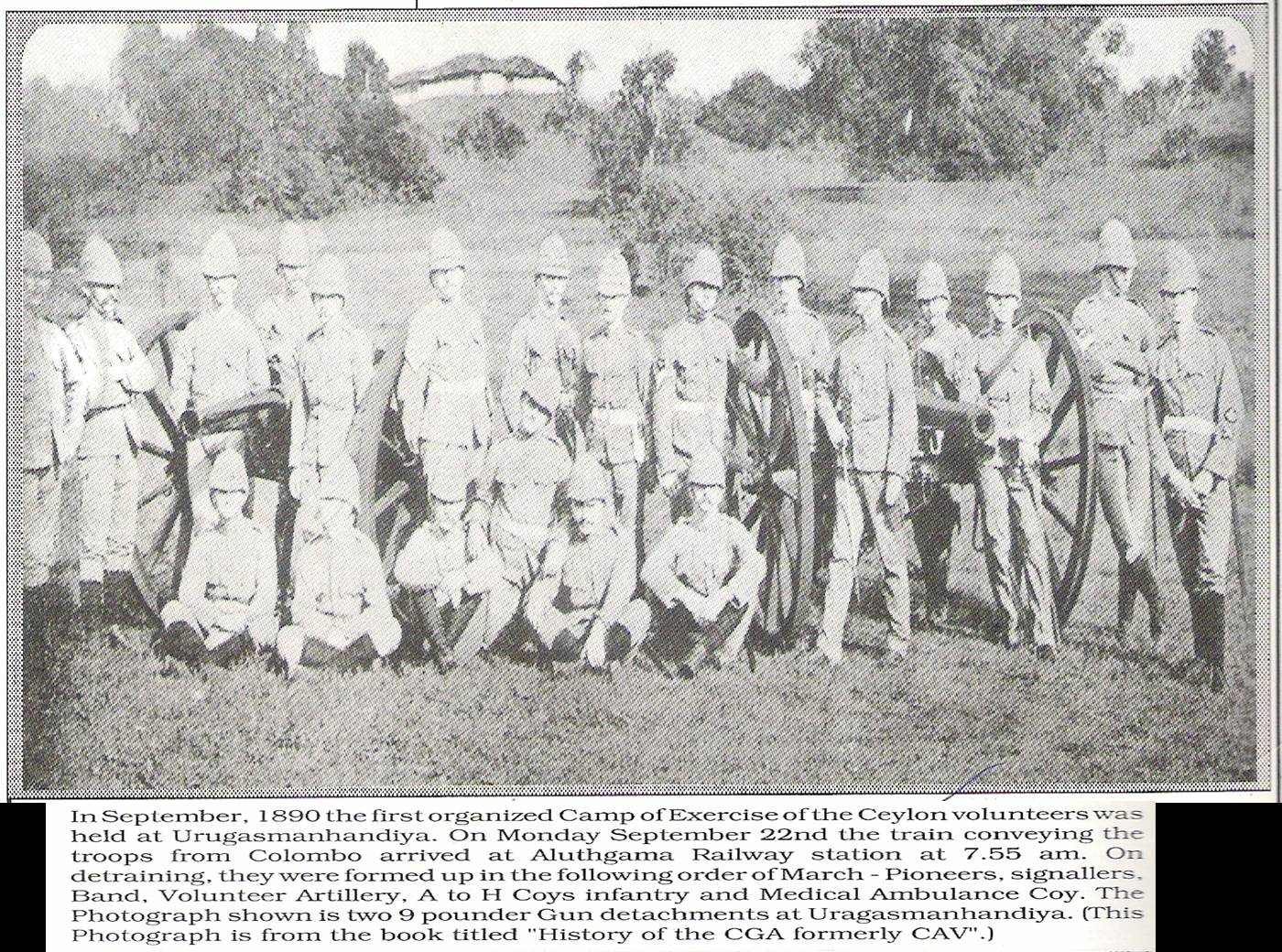 Gun Detachment
Colour Gun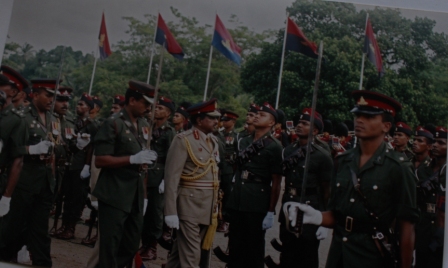 Gurad of honour to Lt Gen LP Balagalle 3rd Army Comd from the Regiment of Artillery
The uniqe occasion of father and son (Capt L Balagalle been the Colour Gun Officer)